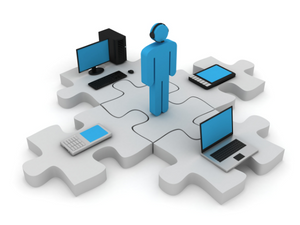 As a small business owner, your business may face various challenges regarding IT support, such as limited resources or lack of experience. This is why it's essential to have reliable IT systems in place, as they can be valuable allies in solving these challenges.
Small businesses may outsource their IT support needs to a team of professionals thanks to managed IT services. These experts have the knowledge and resources necessary to offer complete IT assistance. In addition, by outsourcing to an IT provider, small companies have access to the knowledge and experience of a team of specialists who can help them manage complex challenges. 
Managed IT services are available to small businesses in several forms. Some of these services include:
Monitoring and maintenance
Managed IT service providers can monitor your business devices around the clock, looking for potential issues and performing regular maintenance to keep them running smoothly.
Help desk support
Managed IT service providers offer help desk support, providing small businesses with a team of professionals to answer questions and assist when issues arise.
Cybersecurity
Small businesses are constantly at risk of cyberattacks, and managed IT services can help protect them by providing comprehensive cybersecurity services such as security assessments, vulnerability testing, and incident response.
Cloud services
Managed IT service providers can also help small businesses migrate to the cloud, providing guidance and support.
One of the main advantages of working with a managed IT service provider is having access to a team of professionals without recruiting internal IT workers. Small firms that lack the funding or the capacity to hire a full-time IT team may find this to be of particular help. Small businesses can save time and money by utilizing managed IT services because they no longer need to invest in internal IT personnel or resources.
Managed IT services can be a useful tool for small firms trying to get above the obstacles posed by a lack of resources and knowledge. Small company owners may obtain the expertise and experience they need to operate their IT systems successfully while saving time and money by outsourcing their IT support requirements to a team of experts.